---
Introduction / Background
---
The Vanilla Minecraft client has always been pretty barebone and not very performant to begin with, it is often a struggle to run the modern Minecraft version on slightly older hardware especially after the Cave and Cliffs update. The purpose of this guide is to introduce more people to the Fabric modding toolchain and provide a listed of performance mods that I personally use plus a curated list of quality of life enhancements for the Minecraft client.
---
Last updated: November 8th, 2022.
Paper Chan Hideout: https://paper-chan.moe/discord
Epic emojis, stickers, and more!
---
Table of Contents
Getting Started
Install Optimization Mods
One-click Install
Clear Glass
Gameplay Enhancement
Shaders
Resource Packs
Special Thanks
Closing Notes
---
Getting Started🔗
Install JAVA
Follow This JAVA installation guide to install JAVA onto your PC. If you are unsure which version to grab, the latest JAVA17 LTS or JAVA18 should be fine.
Or click here to download Amazon Corretto 18 directly.
Install Prism Launcher
Prism Launcher is an open-source launcher for Minecraft that provides convenient versions, modpacks, and profile controls, it is a lot easier to use among with mods especially for beginners. The offical version can be downloaded from Prism Launcher Download Page.
---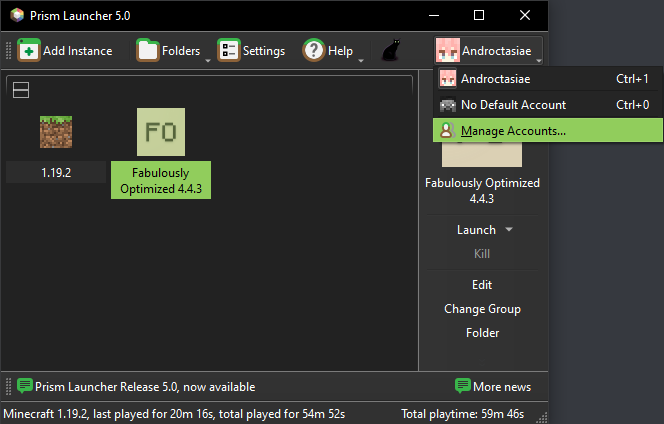 ---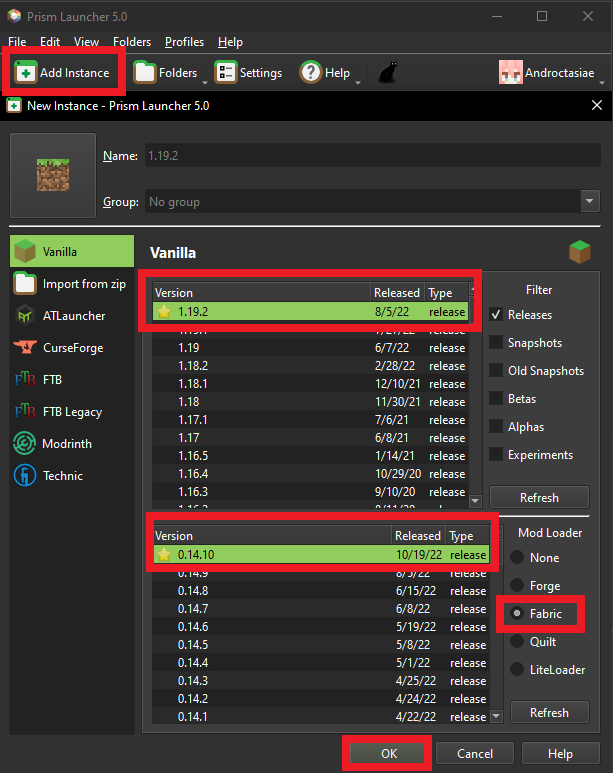 ---
Install Optimization Mods🔗
Fabric mods can be obtained from many different sources such as Modrinth, CurseForge, Github, Jenkins, or directly from the PolyMC launcher itself. As always, only download mods from the trusted official sources and reputable developers.
Look for fabric mod and matches the Minecraft version respectfully when selecting mods to download.
---
If you would like a quick and easy one click installation without picking your own optimization mods, click here to jump to Fabulously Optimized Modpack; otherwise, below is the list of mods that I recommend using.
Fabric API is required in order for most mods to function.
Modern rendering engine and client-side optimization mod for Minecraft.
Additional addons to Sodium.
A shader mod that works with existing ShadersMod/Optifine shaders.
A complete rewrite of light engine aims to fix performance issues related to lighting in Minecrafy by our rat king SpottedLeaf.
More game logic & server optimizations.
Makes the initialization of DataFixerUpper "lazy," making the game start more quickly.
A mod to optimize the Minecraft networking stack.
Improve performance when Minecraft is in the background.
Sodium addon providing support for the Fabric Rendering API, based on Indigo.
Reduce FPS lag with block entities.
Optimize tiles & entities rendering.
Optimize leafs.
Memory usage optimizations.
More culling.
Instantly closes the loading terrain screen on world changing.
---
Alternative method - Fabulously Optimized modpack🔗
If you are someone who just want a quick and easy way to get an optimize client, Fabulously Optimized is a good choice as the installation can be easily done via the PolyMC client itself. If you do wish to pick and choose which mod you wish to install, you can skip to the next step where I provide a curated list of mod that I persoanlly use and also suggestions from the Minecraft community.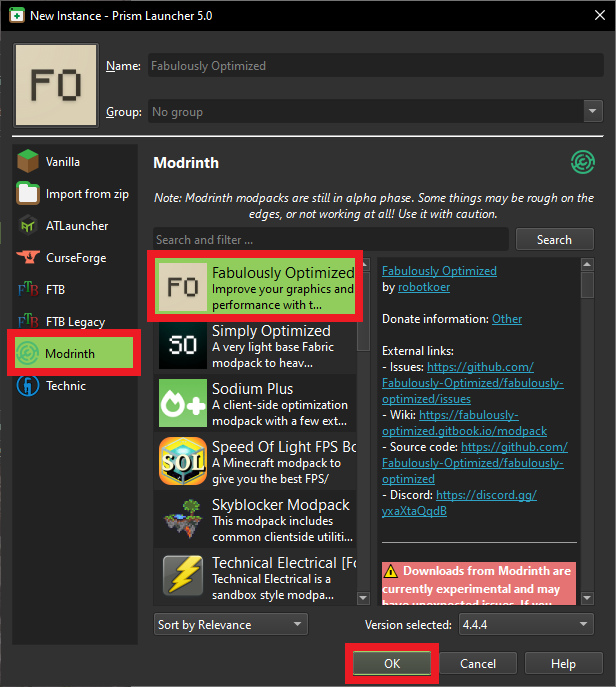 This is the end of client optimization mods.
Everything below is gameplay enhancements and is optional.
Special Section for Clear Glass Lovers🔗

To achieve the above effect of clear glass, the follow mod and resource pack is needed.
Install the Fabric Mod as well as select the resource pack within the in-game menu.
---
Quality of Life & Gameplay Enhancement Mods🔗
Modding in Minecraft has always been its strong selling point and players are able to install modifications to their client to enhance their gameplay experience. However, certain server would consider this an unfair advantage so please read and understand server rule before joining with a modded client.
💡
Ensure to download the "Fabric" mod with matching Minecraft version if multiple versions are present in the resource page.
This is a dependency for the mods below.
(Dependency means that this mod is required for the other mod to function)
This is a dependency for the mods below.
This is a dependency for the mods below.
An inventory management mod. No more messy inventory. A must have!
Rearrange menu for additional mod configs. A must have!
Add mini map to Minecraft.
Add world map to Minecraft.
Click through signs and item frames to chests.
A dynamic lights mod.
Add better grass.
A mod that allows for efficient connected textures.
(Skip if you already downloaded it on the clear glass section above)
Adding UI sounds and more.
More sounds!
Add sounds for drip particles landing.
Add more ambient sounds and music.
Customizable HUD.
Client side chunk caching mod to allow futher views.
Display Axolotl variants while inside bucket.
Add particle effect to leaf blocks.
Food and hunger related HUD improvements.
Togglable Armor rendering.
Enhanced shulkerbox UI.
Take LARGE screenshots.
Armor and tool durability HUD.
Improve mount HUD.
Show more info about advancement requirements.
Add tooltips to enchantments.
Advanced beehive info.
Add a zoom key.
Discord rich presence intergration.
The Fabric mods below are to fully replace Optifine for those who made the switch.
A mod implementing the OptiFine/MCPatcher animated texture format.
Enables resource packs to add and change block and biome colors.
A client side drop-in replacement for OptiFine custom GUIs.
Re-implements MCPatcher's CIT (custom item textures from optifine resource packs).
Emissive, Random & Custom texture support for entities in resourcepacks just like Optifine but for Fabric.
Adds resourcepack features and a GUI to more conveniently configure OptiFine alternatives.
Custom Entity Models suport on Fabric.
The Fabric mods below are for special use case, it may not be a neccesarity for you.
Client performance profiler.
A simple mod to hide client brending.
(If you only intend to use this mod to bypass server side anti-Fabric plugin, ensure to edit the config option to hide from server only)
A schematic mods with powerful tool for buildings.
(For advanced user)
World resource viewing mod.
A redesign of inventory menu.
(If you prefer Vanilla menu, skip this mod)
---
Shaders🔗
Here are some popular shaders and my personal favorites.
---
Resource Packs🔗
---
Special Thanks🔗
Special Thanks to the following people for their contribution in the making of this guide.
EEstar For the epic suggestions!!
broccolai
Puremin0rez
_11
Camar
---
Closing Notes🔗
This guide is aim to be as simple to follow as possible, please reach out to EterNity if you have any suggestions on possible improvements or more mod suggestions. Thank you very much!
Join Paper Chan Discord today!
Epic emojis, stickers, and more!